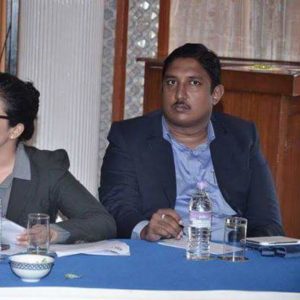 Practicing Advocate at Madras High Court and Madurai Bench of Madras High Court. Qualified in Law, Information Technology, Accounting, Auditing, and Taxation. He has over 10 years of Teaching experience in Techno-Legal
Specialties as Adjunct Faculty of law, and is specialized in Taxation, ICT, IP Rights, Diplomacy & Cyber Laws. He is a Registered GST Practitioner and Trademark Attorney. He was educated by eminent professors from prestigious Universities/Institutions in India (NLSIU, NUJS, ILI, GNLU, NLUD, TNDALU, AU, IICA etc) and abroad (ACCA, UNIVERSITY OF LEICESTER , UNIVERSITY OF LEEDS, DUKE UNIVERSITY, UNIVERSITY OF LONDON, WIPO Academy, Euclid University, Universiteit Leiden, Columbia University etc). He is also a part of the prestigious Asian Arab Chamber of Commerce and heading the Legal Services and Arbitration Committee.
His qualifications include:
LLM – Master of Laws in Constitutional Law
MBA – International Business (JNU)
MCL – Master of Corporate Laws (TNDALU)
PGDTEL – Post Graduate Diploma in Tourism and Environmental Laws (National Law University, Delhi)
PGDIHL- Post Graduate Diploma in International Humanitarian Law (NALSAR, HYDERABAD)
PGCCL – Post Graduate Course in Cyber Law
PGCPP – Post Graduate Course in Patent Practice
PGDCPA – Post Graduate Diploma in Criminology and Police Administration
PGDM – International Business Management(MIT)
DILP -Diploma in Internet Law and Policy (GNLU)
DCL – Diploma in Cyber Law (GLC, Mumbai)
CIPR – Certificate in Intellectual Property Rights (ILI, Delhi)
MIPA – Member of Institute of Public Accountants, Australia
AFA – Associate of Institute of Financial Accountants, UK
CertIA – Certificate in International Auditing – ACCA, UK
AFSP – Annual Filing Season Program – Record of Completion – IRS, USA
Quickbooks Certified ProAdvisor
Microsoft Certifications: MCT, MCSE, MCITP, MCP+I, MCDST, MCTS, MCBMSS, MCP
IBM Certified Systems Administrator
IBM Certified Specialist
3Com Certified Solutions Associate
He has been presenting papers at various National Seminars and Conferences in India and was selected as Best Presenter. Many of his articles on International Law, Corporate Law, International Treaty Law and Civil Law were published by iPleaders, India's biggest legal blog.
He is a practicing Advocate and earlier worked as Adjunct Faculty (Part-time) at Euclid University, which is an Intergovernmental Institution (IGO) under United Nations Treaty Series 49006/49007. He is also serving as Executive Committee Member of Indian National Bar Association (INBA), New Delhi. He can be reached at +91-9489816007 or azad@spicylaw.com
Post Your Question!
Are you looking for FREE Legal aid? Are you in need of Legal Assistance?
Just post your question online. Let us discuss, brainstorm, and find the best solution for your issue.
Post Your Question!
Our Valuable Team Members